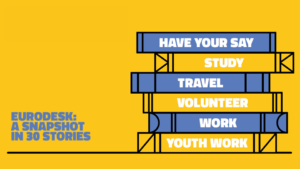 Eurodesk's mission is to help young people experience the world.
Engaging and inspiring young people – and those who work with them in the youth sector – is key to this.
As you know, CWVYS have been partners of Eurodesk UK for a number of years, sharing and promoting positive stories from young people here in Wales and their peers all across Europe.
If you enjoy these kinds of news stories, Eurodesk UK recently released their new publication 'Eurodesk: a snapshot in 30 stories'.
The range of experiences covers six topic areas:
Have your say
Study
Travel
Volunteer
Work
Youth work
From volunteering placements to studying for a semester abroad, everyone has a unique experience and a story to tell, not only on what they did but how it affected them personally.
You can enjoy them here: https://www.eurodesk.org.uk/resource/eurodesk-snapshot-30-stories