Youth Work Week Resources
Youth Work Week in Wales is fast approaching!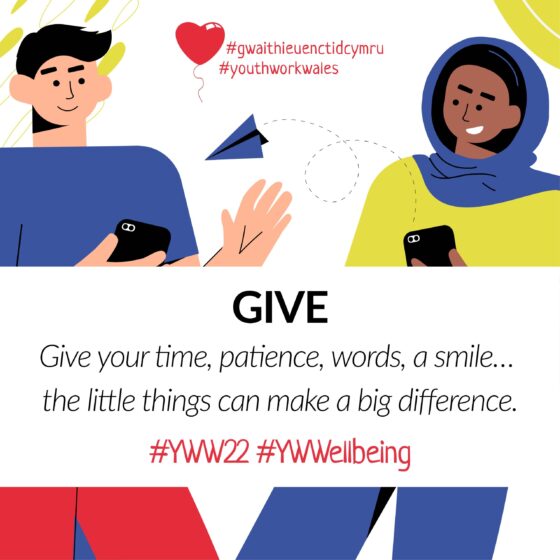 From the 23rd to the 30th of June we celebrate Youth Work's contribution to Wales and our young people, and what better way this year than with the theme of 'wellbeing'?
To help you get involved the Marketing and Communications team (Ellie and Branwen) have put together a bilingual resource pack. There are 5 bright images (like the one featured above) available in English and Welsh with prompts to foster wellbeing such as "Be Active" and "Keep Learning" and including this year's hashtags; #WGI22 #YWW22 (both standing for Youth Work Week 2022 and) #LlesGI #YWWellbeing (meaning Youth Work Wellbeing).
Here you can find those images, a Youth Work Week Information Pack ENG 2022 and Ellie's helpful PowerPoint slides which explain the resources and how you might want to use them, as well as highlighting events taking place during Youth Work Week and much more.
We hope you'll find these resources useful and look forward to seeing you sharing your youth work stories and celebrating the week when it comes around. Don't forget to tag @CWVYS when you're posting on twitter, and of course @YWWales and @Addysg_Cymraeg so your stories reach far and wide.
Please let me know if you have any questions (helen@cwvys.org.uk) or feel free to get in touch with Ellie@cwvys.org.uk or Branwen@cwvys.org.uk