Youth Work Week – Share Your Stories
This is an important message regarding Youth Work Week, Ellie Parker has been working hard (in such a short space of time!) to create a resource pack for the whole youth work sector, to make it easy for you to share your stories and get involved online during Youth Work Week. All the information is below, if you have any questions please don't hesitate to get in touch with ellie@cwvys.org.uk
For convenience here you can find;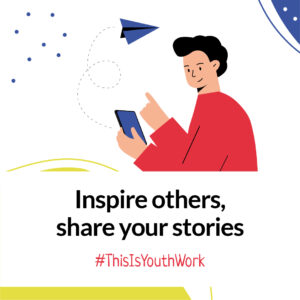 Some words from Ellie;
Are you ready for Youth Work Week?
Youth Work Week is an annual celebration of youth work across Wales. It's an opportunity for young people, youth workers, and youth work organisations to reflect on the challenges and celebrate the positive outcomes of the last 12 months.
This year, we'll be highlighting the innovation, resilience and resourcefulness that the sector has shown during an exceptionally difficult year.
Through the theme 'Expressive' we will aim to highlight how youth work provides opportunities for learning that encourage and enable young people to express their ideas, opinions, emotions and aspirations through a range of creative and challenging opportunities. We'll be celebrating the benefits that young people gain from their engagement with youth work services, particularly around issues of identity, self-expression and confidence.
We would like to see lots of best practice examples of youth work from across Wales and we would like young people to take this opportunity to express their ideas and views on topics or issues that have an impact on their lives.
It's really easy to get involved!
The week runs from 23rd-30th June and we'd like to see social media platforms flooded with your inspiring stories, using the hashtag #ThisIsYouthWork
We have created a communications pack to help you (it contains bilingual graphics/banners and sample content for social media that you can customise to suit your organisation).
Each day of the week is a chance to highlight achievements and outcomes that show the benefits that youth work creates for young people. Each day is also a chance to say thank you and recognise the huge contribution that all those working in youth work services have made to young people and communities.
Here are just a few ways you might consider getting involved:
Share photographs* – remember to capture memories and share experiences, whatever you have planned during Youth Work Week! Take plenty of photos to share on your social media channels (and please don't forget to tag us @YWWales and @cwvys)!
Create a video for social media* – consider using your phone to capture and share footage of activities you are involved in during the week or ask people for their views on what #ThisIsYouthWork means to them.
Provide a short case study* to illustrate the #ThisIsYouthWork campaign – whether you are a youth worker, a parent or a young person, we'd love to hear your thoughts. Get in touch with ellie@cwvys.org.uk if you would like support with developing and writing your case study.
Follow us on @YWWales for news, to find out what's on and to share your stories using #ThisIsYouthWork.
There are so many wonderful stories from youth work to celebrate – let's make sure we share them and do our best to give young people in Wales and all those who support them the recognition they deserve.
* Please ensure you check you have the relevant permissions when sharing photos or videos online and it's a good idea to avoid mentioning full names or including any information that could reveal the person's identity. Top tip – if in doubt, don't post it!