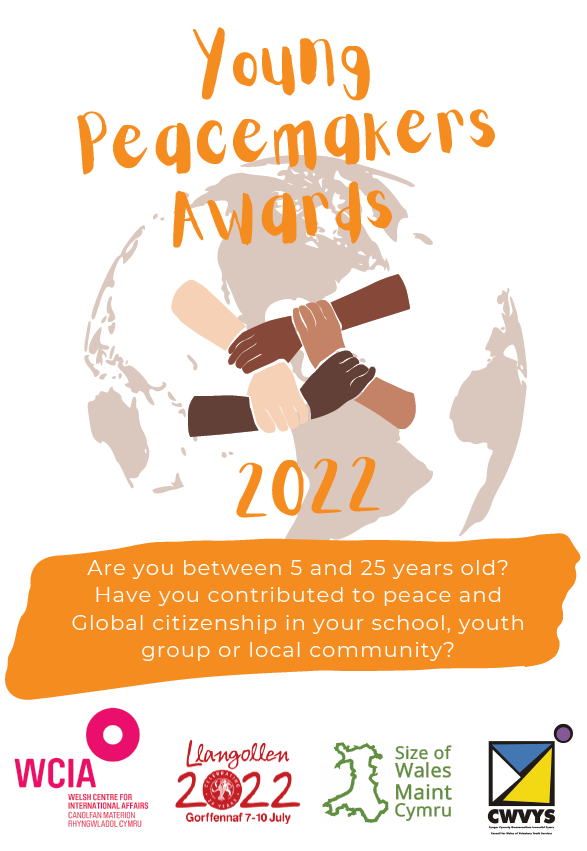 The Welsh Centre for International Affairs (WCIA), Size of Wales and CWVYS are working with the Llangollen International Musical Eisteddfod to celebrate children and young people who have contributed to peace, climate justice and equality in their school, youth group, local community or in the wider world.
Together we will host a Young Peacemakers Awards Ceremony at the Eisteddfod on 7 July 2022 where young people will receive a certificate and an award.
We hope that children and young people (between 5 and 25 yrs old) will be inspired to get creative and express their ideas about how the world can be a more peaceful, equitable and sustainable place post-COVID19 – through words, art or digital media.   
Individual young people or groups can enter under the following categories:
Young Peace Activist of the year
Young Peace Writer of the year
Young Peace Artist of the year
Young Climate Champion of the year
Young Global Citizen of the year
Young Peace Heritage Champion of the year
Young International Peacemaker of the year (also open to young people from outside Wales)
It is also acceptable to nominate someone, with their permission.
The closing date for applications this year is 10th June, 2022. 
You can find the terms and conditions for the Awards here, as well as an application form. 
Please send your entries to  centre@wcia.org.uk.