RAWFFEST (WALES MILLENNIUM CENTRE)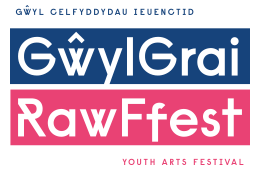 RawFfest promotes and supports artswork from young artists and performers aged 14-25 years.
is anchored at an arts venue with satellite locations in urban environments and reaches out to rural areas.
increases participation in the arts for young people who are in the driving seat throughout. This includes representation on the steering group, curating the festival, working as apprentices, and being trained as volunteers.
offers a programme over 4 days (Thursday to Sunday) in the middle of August.
explores opportunities for skills exchange and social interaction. The festival is a vehicle to train young people in arts practice and in order to have an in-depth immersive experience, all participants should be accommodated close-by.
is sustainable, accessible and affordable to young people in Wales. The festival is bilingual and we are committed to making this festival as inclusive as possible and actively seek diversity in all its aspects.