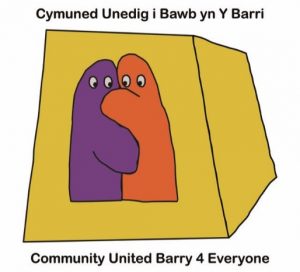 CUBE, part of Heroes Rights Ltd, is a new, cooperative community support centre: Community United Barry 4 Everyone .
We deliver whole family support around domestic abuse, mental health, and addictions. We are a restorative organisation that believes people are the experts in their own lives.  Our volunteers, staff and board members have many years' experience and expertise in our core fields.
CUBE is unique:  all its services, activities, staff, and volunteers have experience of either delivering services to the Barry community and/or lived experiences in accessing local support.  Our CUBE centre will be a community space for collaborative working – a safe and welcoming place where families and individuals can access combined services under one roof, a space that is accessible to local service providers and a space for organisations from further afield to use.
The services and support we offer will complement existing initiatives and give potential for new community partnership work in Barry. During this period of lockdown, we are working to establish where and what the community's greatest unmet needs are, and we are working with local services and organisations to bring people together.
CUBE Services:   
NOTE: Outside of lockdown, these are the services we will offer  -those in bold are ones that we are currently developing for online and virtual access:
Art therapy                        
Casework
Child therapy
Community groups                        
Conflict resolution
Counselling
Domestic abuse support
Group & individual CBT
Life coaching                     
Peer mentoring
Psychotherapy
Safeguarding training
Service coordination
Signposting                       
Supported volunteering
Whole family support
Workshop facilitation
There is also a fantastic venue to rent out for functions, more information available here; Gallery (thegallery.wales) Or contact; thegallery.wales@gmail.com