'MAKING A BIGGER DIFFERENCE TOGETHER' VIDEO TRAINING AND CONTEST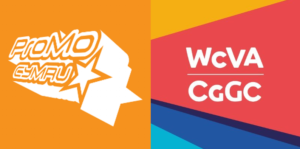 WCVA and Promo Cymru are looking for young people aged 14-25 to join the 'Making a bigger difference together' video training and contest.
Video Training will be held in various locations in Wales.
The young people will learn how to make a short film from scratch. They will be empowered to express their creativity.
By the end of the training, young people will be able to create a professional-looking video about acting to change the world for the better.
The videos will be presented at the Online Film Festival "Making a bigger difference together" and also shared through a national social media campaign. A panel of professional videomakers will select the 5 best videos to be showcased at gofod3 in March 2020.
We are aiming to create an inclusive working group, therefore we welcome people from different backgrounds, and experiences.
We hope you can spread the news to young people who have a story to tell and a desire to tell it through video.
If so, please let us know via e-mail at dayana@promo.cymru