EUROPEAN SOLIDARITY CORPS WORKSHOP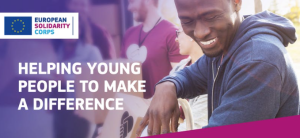 European Solidarity Corps Workshop
The Erasmus+ UK National Agency is pleased to invite you to our European Solidarity Corps Workshop.
The European Solidarity Corps is a new European Commission initiative that aims to help young people volunteer or work on projects that benefit local communities across Europe. The programme has an overall budget of €375.6 million available from 2018-2020, and we are particularly keen to see the youth sector and young people in Wales benefit from this exciting new initiative.
This event is an excellent opportunity to:
• Discover the European Solidarity Corps programme and the funding opportunities available for Local Authorities and voluntary sector organisations under its Volunteering Projects strand;
• Consider how the work you carry out within fits with the values of the European Solidarity Corps programme and could be translated into a good quality Volunteering Project;
• Learn more about how to register with the European Solidarity Corps and apply for funding, with step-by-step National Agency guidance and support on completing and submitting an application;
• Find out about best practice examples from existing Volunteering Project and Erasmus+ beneficiaries.

The workshop will take place on 29th November 2018 in Glyndŵr University, Wrexham from 10:00am to 3:30pm.
The workshop is limited to 30 places, so please register as soon as possible to guarantee your place. The UK National Agency is also able to cover travel and accommodation expenses required to attend the event, up to a maximum of £200 per delegate.
To register, please email us at erasmusplus@ecorys.com no later than 16th November 2018.