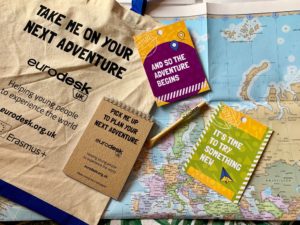 Last week on the the first day of the Global Climate Strike we published an article on the European Youth Portal on some of the ways you can get involved in your communities and the wider world.
It mentioned Eurodesk's Time to Move campaign which takes place every October, and once again during Time To Move CWVYS will spend the 9th and 10th of October supporting it. Our Development Officer Kath will be alongside colleagues from Euroguidance and Europass at the Skills Cymru event in Cardiff!
In a magical feat, being in two places at once, we will also be at Cardiff Metropolitan University's Youth and Community Work Placement Fair on the 10th of October. If you're near the Cyncoed Campus that day, drop by and say hello to Projects and Membership Officer Helen.
If you can't get to any of these events, you can always visit the Eurodesk UK website, the Eurodesk UK Opportunity Finder is a great resource to find out about trainings, volunteering, internships, competitions and more.
In the meantime, if you're considering starting a project but aren't ready to leave your community just yet, have you considered applying for a Solidarity Project with the European Solidarity Corps?
There's still time to put in an application for funding in Round 3 of the Erasmus+ Programme, contact your National Agency Website if you need more information about the process, the UK National Agency Website is really easy to use.
For ideas on what a solidarity project could look like you can visit; https://www.eusolidaritycorps.org.uk/what-does-solidarity-project-look
If you have any queries message eusolidaritycorps@ecorys.com