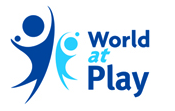 World At Play works to increase sport and play opportunities for children and young people who face disadvantage.
Founded in 2002, we run overland trips that take international volunteers from Wales to the Balkans to work with partner organisations (e.g. foster homes, schools and youth clubs) to create more sport and play opportunities as part of their regular activities.
We co-organise a games festival, train local leaders and donate sporting equipment to support a year round programme of sport and play in these organisations and communities. Visits to each partner last 7-10 days and so far we have worked with over 5,000 children and young people in Croatia, Bosnia, Serbia, Kosovo, Romania, Bulgaria and Turkey.
Looking to the future, we want to work more in Wales to complement and support existing community sport activities, learn from local partner organisations for mutual learning and support.