THE ROYAL SOCIETY FOR BLIND CHILDREN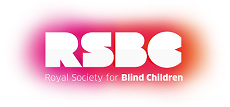 The Royal Society for Blind Children (RSBC) is a national charity that supports children and young people (CYP) aged 0-25 who are visually impaired (VI) to have the best possible start in life.
We have 180 years' experience of supporting the wellbeing of VI children and their families.
Our vision is that no child should grow up to be poor or lonely just because they are blind. Our innovative and life-changing services focus on enabling blind young people to live a life without limits by building and improving confidence, skills, learning, health, social interaction and inclusion. They include:
A range of educational, social, creative, sporting, wellbeing, employment and practical life skills opportunities for children and young people to socialise, access mainstream community activities and boost personal development, self-confidence, life skills, find employment and build independence.
Our Families First Service for parents and families: supporting families to cope with their child's diagnosis through practical and emotional support services in their own homes.