TAPE COMMUNITY MUSIC AND FILM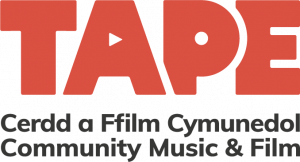 TAPE is a community arts charity which specialises in bespoke, inclusive, person-led support for people of all ages. For 10 years, TAPE has worked to create spaces and opportunities in which people from across the community can engage, socialise, connect, train, learn and find employment through their creativity.
Over the past 10 years, TAPE has delivered hundreds of projects, workshops and events which have engaged and supported over 20,000 people throughout Wales and the UK. This work has seen TAPE secure and manage over £1.75million of funding and create over 100 full, part-time and freelance positions alongside providing thousands of hours of progressive volunteering for young people and adults across Welsh communities. TAPE's work has helped significant numbers of people to move out of isolated circumstances, find friends, build confidence and skills, move off benefits, enter further and higher education and training, and find employment.
TAPE's work has also impacted on the landscape of support in the local area, bringing person-centred and inclusive practices into sharper focus and positively promoting co-production and the furthering of the social enterprise agenda.
TAPE's core aim has been the same since its formation in 2008; creative opportunities for all. This ethos remains at the heart of everything TAPE does and has seen the charity become the benchmark for inclusive, person-led, responsive, creative opportunities in North Wales.
Training offered
TAPE offers bespoke supported filmmaking, soundtrack and animation projects in an inclusive and supportive environment that can support people accessing your services or support people accessing TAPE. Creating uniquer and high quality media content for your organisation with the addition of brilliant social benefit.
Facilities offered
Conference space for up to 80 people, cinema, meeting rooms, professional recording studio, edit suite, inflatable cinema screens and offsite AV support services.