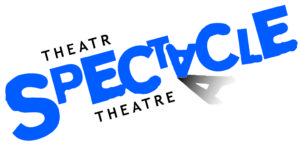 Founded in 1979 in the heart of the former Welsh coalfields, Spectacle Theatre Ltd pioneered access to live theatre and new writing in Welsh and English. Through partnership working, we deliver an innovative bi-lingual theatre service (workshops, production and mentoring), locally, nationally and internationally.
Vision
Our vision at Spectacle Theatre is to create participatory theatre that is fully inclusive and meaningful, is integrated into our lives and contributes to the wellbeing of our community. This vison sits at the heart of our professional programme of participatory theatre productions, drama-based workshops and mentoring service.
Aims
 Enable people who are disadvantaged to address issues affecting them and their communities;
 Engage and motivate vulnerable hard to reach people through accessible recreational arts activities and have a positive effect on self-esteem, confidence, personal & social development;
 Empower individuals within disadvantaged groups to have a voice, be heard, have the confidence to listen to others and engage positively within their communities;
 Create partnerships with organisations combating social exclusion to maximise benefits to participants.