NEWPORT MIND CHANGING MINDS PROJECT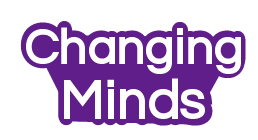 Newport Mind Changing Minds Project
The Changing Minds project based at Newport Mind helps support young people aged 14-25 who are suffering with mental health difficulties in Newport, Monmouthshire, Blaenau Gwent, Caerphilly and Torfaen. The project offers:
1:1 Transition Support:The Changing Minds Project offers 1:1 transition support to those experiencing mental health difficulties and are undergoing a period of transition. We recognise that any transition in a young person's life can be stressful and can heighten an already existing mental health condition or predisposition. The work focuses around helping the individual develop resilience, coping strategies and maintaining positive mental health during their transition.
Self Management Courses: Working in a group environment can help young people develop their social networks and build stronger relationships. We offer young people the opportunity to attend our self management courses to help them build protective factors and give them the skills to manage their mental health.
Peer Support: Young people consistently tell us that they find it easier to talk to young people their own age and the benefits of peer support are well known in many sectors. Peer Support Volunteers are able to offer other young people support using their own lived experience of mental health and their considerable training.
Volunteering: The Changing Minds Project truly works within the spirit of participation and hopes that through volunteering young people can expand their skills, relationships and horizons! We have volunteering opportunities for young people who have an understanding or experience of mental health to join us as Peer Support Volunteers and/or as part of our Young Person's Expert Panel.
For more information on the Changing Minds Project you can consult this leaflet: Changing-Minds-Leaflet 2016
For those interested in volunteering, details can be found on this poster: A4-volunteering-poster 2016.