Exciting young person talent scheme with the BBC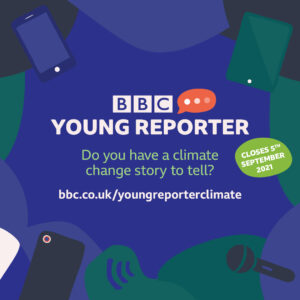 Here is a message from the BBC who would like to share details of an "incredible opportunity for young people" – aged 18-24 – in Wales to work with the BBC and to potentially get their faces on national news;
The scheme allows young storytellers – aged 18-24 – (can be people who shoot their own YouTube, TikToks, write newsletters, host radio shows, basically anything in the media, or who are training to work in the media) to get involved in the BBC's coverage of climate change issues ahead of COP26 – with a place for two reporters with ideas from Wales, with at least one being Welsh speaking.
It's an incredible opportunity both for the young people and for us, with the chance for the reports to feature both across our outlets, and network, but also a range of special BBC programming for COP26 and Our Planet Now.
The deadline is September 5th for applicants, and they will need to have a strong idea for a story, and pitch it to our newsdesk.
The scheme is open to content creators – so influencers, instagrammers, youtubers, reporters, etc – and those interested in working in the media, who have original ideas about environment and climate change related stories.
It is part of a UK-wide scheme with 22 reporters chosen from different nations and regions.
The successful candidates will get the chance to work with our journalists and producers to produce original stories about sustainability and climate for our programmes and online outlets in the lead up to and during the UN Climate Change Conference of Parties in November. They will also get access to careers guidance.
They will get training with BBC staff and have an individual mentor to help train them and support them as they create and report on stories for our outlets.
If people could share this information on their socials I would be really grateful, the tweet is here: https://twitter.com/BBCYoungReport/status/1424642884670738433
A link to a story talking about this amazing opportunity can be found here: https://www.bbc.co.uk/news/science-environment-57921487
And in Welsh here: https://www.bbc.co.uk/cymrufyw/57974553
And people can apply www.bbc.co.uk/youngreporterclimate