We thought you might be interested to know about European Youth Week 2019.
Our partners at Eurodesk UK have kindly shared a link to promotional banners for use on social media, and tags for any events that might be happening over the next couple of weeks that can be tied in to European Youth Week. They sent us this handy email:
We hope you had a lovely Easter break. This is just a reminder about the European Youth Week ?
The European Youth Week is coming up soon (like, next week!!) and it is a great opportunity for you to present and promote your day-to-day work on active citizenship and all the interesting opportunities for young people on this topic.

Dates: 29 April – 5 May 2019 (please note: events can take place a week before and after)
To make things as easy as possible, *here you can access branding materials*, and don't forget to;
• Use the hashtag: #YouthWeek
• Tag us on Twitter, Facebook and Instagram: @eurodeskUK
If you have any questions about this, please get in touch and we will be happy to give you a hand!
Best wishes,
Eva de Luis
Eurodesk Officer
T +44 (0) 121 212 8916 | Helpline +44 (0) 121 212 8947
Eva.deLuis@ecorys.com | eurodeskuk@eurodesk.eu
The Erasmus+ UK National Agency is a partnership between British Council and Ecorys UK
If you're thinking of getting involved you can find suggestions below.
This year's theme is "Democracy and me" and will take place 29 April – 5 May 2019. It is an ideal opportunity to reflect on active citizenship and the participation of young people in the decision-making process for policies that affect everyone.
Democracy is a value that we may take for granted, but we have developed and nurtured it for years. It's ours. It's our voices. It's our achievement. It's you. Get involved in European Youth Week through your local community.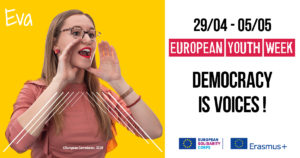 *You can find tips on organising an event here*
How to take part in an event:
1. Have a look at the European Youth Week registered events taking place near you;
2. Register to attend or contact the organisers;
3. Promote it on social media with #youthweek, and don't forget to tag us @eurodeskUK.
IF YOU ALREADY HAVE ACTIVITIES PLANNED BETWEEN NOW AND THE SECOND WEEK OF MAY THEY CAN STILL BE PART OF EUROPEAN YOUTH WEEK 2019.
When you're sharing just use the tags #youthweek and @eurodeskuk if you can ?