EUROPEAN SOLIDARITY CORPS UK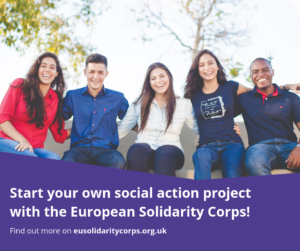 Empower young people to start their own social action project.
Do you work with groups of young people or individuals who are looking to take part in social action to improve their community?
Introduce them to Solidarity Projects so they can make a difference and have their voices heard!
A Solidarity Project is a youth-led activity under the European Solidarity Corps, where informal groups of at least five young people (aged 18-30) can get funding to run a project in the UK, lasting between two and 12 months. The next deadline for funding applications is 1 October 2019 (11am UK time).
Why get involved?
The European Solidarity Corps offers learning experiences to both your organisation and young people.
Your organisation can empower young people by giving them an opportunity to develop new skills while addressing a need in the community or society. For young people, it is a chance to take action on a cause that matters to them and gain valuable experience and skills to enhance their future employment prospects.
Applying for Solidarity Projects funding is a straightforward process – no need for partners abroad or prior accreditation – and projects can be part-time. Costs of project management, coaching and support to participants with fewer opportunities are supported in this activity.
Spread the word today!
We would be grateful if you would help us to spread the word and encourage more young people to get involved in Solidarity Projects.
You can find more info on the Erasmus+ UK website, and feel free to contact us or Eurodesk UK if you have any questions.